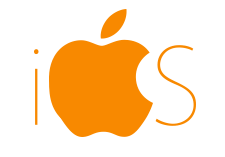 iOS development to make your business grow.
The iPhone and iOS ecosystem represents the largest revenue producing app platform in the world today. While there may be more users of other platforms, iOS draws the loyal users that spend the most money and keep up-to-date with the platform the most.
iOS users upgrade to the new versions faster, spend more money on apps, download more apps, and are a great target audience for your mobile apps.
It doesn't come without some difficulties. The iOS developer agreement is one of the most one-sided agreements in the history of technology. Apple will take a 30% cut of most of your app purchase and in-app purchase revenue. They will take a long time to approve your app, have vague terms that they can find you violate, thus rejecting your app, and also may even become a competitor for your app.
With all of that said, it's still vital to succeed when developing apps for iOS. We build both native apps in Swift and Objective C, as well as Hybrid apps that can have native specific code running.
Often times, the prototype or proof-of-concept app is built first for iOS, tested, then developed for Android. Many people feel this is the best way to reach influential and users of the highest value first. We don't necessarily agree with this whole-heartedly, however we acknowledge that many people take that approach.