SEO the right way! Content and structure, reach and conversion - delivering value. Search Engine Optimization is a critical step in building successful websites, and something that we've mastered.
Search Engines try and behave like users. The more value your website provides to users the higher you will rank. Now, there's a lot more to it than that, however SEO is really about the value your website delivers surrounding specific keywords.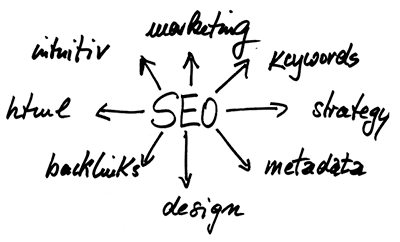 Which describes you best:
SEO is now less about machines and more about people. More than just content and links, it's about a lot of factors:
Domain Authority & Trust
Relevance of Content
Reputable Promotion
Data and Analytics
Mobile Support
Pageload/performance
And, don't forget about valuable ongoing activities to promote your site and company.
Blog Posts
Articles
Videos
Podcasts
Infographics
Press Releases
Active Social Profiles
References & Citations
Reviews & Responding to Reviews
Following & Engaging Influencers/Audiences
Communicating in threads on key issues
and so on
The more, the better.
We can help with ALL of this.
The web is a vast space, users can be found in many places, and when we think of SEO, we need to think about people. There are a number of great tools out there to help with each step of the SEO process. Finding your keywords is a critical first step. What keywords do your customers use to describe you? What problems do your ideal prospects have that you solve? Where online are your customers going?
SEO is just one piece of online marketing, one very important piece. Most websites think about SEO as Internet Marketing, however Search Engine Optimization is not enough to succeed with marketing online.
We can help with your wholistic Internet Marketing needs, and we can simply help with SEO. Either way is good with us.

With us, every SEO engagement includes:
Extensive Keyword Research
Website SEO Audit
Competitor Analysis
Backlink Profile Analysis - for both your competitors and you
Ranking & Traffic Benchmarking
Google Analytics Setup/Analysis
Google & Bing Webmaster Tools Setup/Analysis
Project Management Dashboard Setup
Monthly Progress Reports

On-Page Optimization
Fixing Issues Identified in our SEO Audit Report
Fixing Issues Identified in the Webmaster Tools Analysis
Duplicate Content Checking & Content Optimization Suggestions
Site Structure and Navigation Enhancements
Data Highlighting in Google Webmaster Tools
Structured data Implementation with Schema.org Markup
Page Speed Optimization Analysis
Landing Page Optimization
Help Identifying and Remove Risky Links
Google Merchant Center Feed Creation
Inbound Content Marketing (Monthly)

On-site Blog Writing & Posting
Article Writing & Syndication
Content Marketing
Press Release Writing & Distribution
Blogger Outreach
Infographic Creation & Distribution

Website Reach Optimization
Business Citations Creation
Niche Directory Listings
Classified Ad Submissions
Reviews & Replies
Social Media Optimization

Social Bookmarking
RSS Feed Submission
Facebook Content Sharing
Google+ Updates
Twitter Updates
Pinterest Promotion
Slideshow Creation & Submission
YouTube Channel Optimization

Reporting
Monthly Activity Report
Monthly SEO Rank Report
Monthly Google Analytics Report
What about e-commerce?
Marketing an e-commerce site is a unique challenge in the world of SEO. Product names and sku's are gold in attracting people who have what you sell.
There are techniques and considerations in each type of e-commerce engagement that we provide the expertise for.
Google Product Feeds
Amazon Affiliates
Ebay
Shopify
Etsy
and more...
We're here to discuss your needs and see how we can help take next steps together.
Let's SEO how we do together?!